Biotechnologie
Die Herstellung komplexer Protein-basierter Medikamente ist ein schnell wachsender Sektor in der biopharmazeutischen Industrie. Die Herstellung von Virusimpfstoffen, monoklonalen Antikörpern, Glykoproteinen und anderen Arzneimitteln erfordert zweckgebundene Systeme für eine sanfte, aber effiziente Fermentation, Ernte und Reinigung. Eine erfolgreiche Produktion erfordert hygienische Ausrüstung, die die Zellen sanft behandelt, das Risiko einer Kontamination beseitigt und die Ausbeute maximiert.
Passende Anwendungen
Passende Produkte
Passender Service
Alle
Brauereilösungen
Instrumentierung
Membranen
Mischungsequipment
Muffenventile
Plattenwärmeübertrager
Pumpen
Regelventile
Rohre
Röhrenwärmeübertrager
Rohrzubehör
Sitzventile
Tankausrüstung
Tankreinigungsausrüstung
Thermische Lösungen
Wärmeübertrager mit geschabter Oberfläche
Zentrifugalseparatoren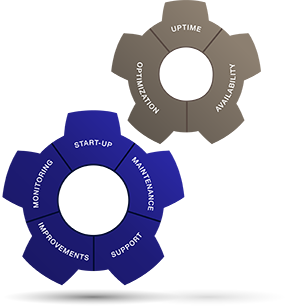 Unser globales Service-Netzwerk verfügt über Spezialisten, die in Ihrer Branche zu Hause sind. Wir unterstützen Sie mit Ersatzteilen und Experten, wo und wann immer Sie diese benötigen.
Das 360°-Serviceportfolio von Alfa Laval deckt Ihren Bedarf über die gesamte Lebensdauer Ihres Equipments ab – vom Start-Up über Wartung, Support und Optimierung bis hin zu Überwachungsservices – für maximale Betriebszeit, Verfügbarkeit und laufende Verbesserungen.
Wir minimieren Ihre Gesamtbetriebskosten, damit Sie im Wettbewerb die Nase vorn behalten.
Erfahren Sie mehr über das Alfa Laval Serviceangebot.
---
On the pulse of biotechnology manufacturing
Biopharmaceutical companies face challenges including evolving regulations and demands to constantly innovate and maximize yields. Alfa Laval helps overcome these challenges with state-of-the art biotech process knowledge and equipment that ensures hygienic processing, low cost of ownership and minimal contamination risks. Easily adapted to pilot scale and scale-up to commercial production, our equipment ensures safe, continuous and cost-effective production and contributes to increased production yields.
Why choose Alfa Laval?
Complete range of process equipment for gentle treatment that easily scales up from pilot units to full-scale production plants
Hygienic and reliable equipment for cGMP-compliant production backed by engineering experience, application knowledge, customized installation, full validation support and comprehensive documentation
Fully contained, easy to Clean-in-Place and easy-to-sterilize equipment for hygienic cell culture processes
Informationen anfragen von
Angebotsanfrage für Biotechnologie