Öl und Gas
You are one of those who secure our daily energy supply. Your scale of projects is huge and the production chain only as strong as its weakest link. As costs, complexity and risks in your industry grow, operational excellence has become an imperative. Alfa Laval combines the most advanced technology with exceptional experience from the oil and gas industry. We have insight into your daily challenges. We have seen the problems you trip over. We help you optimize performance. Time and time again
Passende Anwendungen
Passende Produkte
Passender Service
Alle
Automatische Rückspülfilter
Bulk solutions
Entsalzungslösungen
Erwärmer
Finned-Tube-Luftwärmeübertrager
Frischwasserlösungen
Heizkessel
Lösungen für Ballastwasser
Lösungen zum Umweltschutz
Mischungsequipment
Plattenwärmeübertrager
Sicherheitslösungen
Tankreinigungsausrüstung
Zentrifugalseparatoren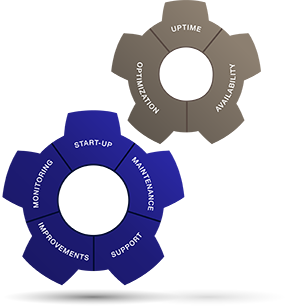 Unser globales Service-Netzwerk verfügt über Spezialisten, die in Ihrer Branche zu Hause sind. Wir unterstützen Sie mit Ersatzteilen und Experten, wo und wann immer Sie diese benötigen.
Das 360°-Serviceportfolio von Alfa Laval deckt Ihren Bedarf über die gesamte Lebensdauer Ihres Equipments ab – vom Start-Up über Wartung, Support und Optimierung bis hin zu Überwachungsservices – für maximale Betriebszeit, Verfügbarkeit und laufende Verbesserungen.
Wir minimieren Ihre Gesamtbetriebskosten, damit Sie im Wettbewerb die Nase vorn behalten.
Erfahren Sie mehr über das Alfa Laval Serviceangebot.
---

Alfa Laval offering
Oil and gas operations are all about constantly optimizing process performance while maintaining safety for people and the environment. Alfa Laval offers a broad range of customized, well-integrated solutions that ensure maximum process reliability and efficiency.
Our comprehensive portfolio of products and services supports your drilling and oil and gas production operations, onshore as well as offshore. Discover how we can help you build your competitive strength and profit.
Informationen anfragen von
Angebotsanfrage für Öl und Gas