Verarbeitung von Fett und Öl
Alfa Laval bietet alles, was Sie brauchen, um Öle und Fette aus ölhaltigen Planzen zu extrahieren. Dank seiner Systeme und seiner Ausrüstung ist Alfa Laval ein Weltmarktführer in dem hochspezialisierten Bereich der Verarbeitung von tierischen und pflanzlichen Fetten. Wir verfügen über fortschrittliche – häufig patentierte – Technologien, die neue Maßstäbe für die gesamte Branche setzen und ermöglichen Ihnen die Anpassung Ihrer Produktion an sich verändernde Marktanforderungen.
Passende Anwendungen
Passende Produkte
Passender Service
Alle
Abfülllösungen
Automation
Brauereilösungen
Heizkessel
Instrumentierung
Lösungen für Pflanzenöl
Mischungsequipment
Muffenventile
Olivenöllösungen
Plattenwärmeübertrager
Pumpen
Regelventile
Röhrenwärmeübertrager
Sitzventile
Tankausrüstung
Tankreinigungsausrüstung
Thermische Lösungen
Zentrifugalseparatoren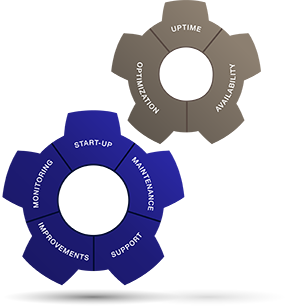 Unser globales Service-Netzwerk verfügt über Spezialisten, die in Ihrer Branche zu Hause sind. Wir unterstützen Sie mit Ersatzteilen und Experten, wo und wann immer Sie diese benötigen.
Das 360°-Serviceportfolio von Alfa Laval deckt Ihren Bedarf über die gesamte Lebensdauer Ihres Equipments ab – vom Start-Up über Wartung, Support und Optimierung bis hin zu Überwachungsservices – für maximale Betriebszeit, Verfügbarkeit und laufende Verbesserungen.
Wir minimieren Ihre Gesamtbetriebskosten, damit Sie im Wettbewerb die Nase vorn behalten.
Erfahren Sie mehr über das Alfa Laval Serviceangebot.
---
Verarbeitung von Fetten und Ölen
Wir liefern Lösungen zur Entschleimung, Neutralisierung, Entwachsung, Trocknung, Bleichung, Winterfestigkeit, Desodorierung, Hydrierung, Entsäuerung und zur Aufspaltung der Seifenlagerung.
Entdecken Sie die Vorteile unserer Lösungen und profitieren Sie von unserem Prozesswissen. Wir unterstützen Ihr Unternehmen, wenn es um saisonale Nachfrage, individuelle Marktbewegungen oder die weltweite Ökonomisierung landwirtschaftlicher Grundprodukte geht.
Die Herangehenweise von Alfa Laval bietet flexible Lösungen, die es Ihnen ermöglichen, Ihre Produktion schnell, effizient und sicher an die Kundenanforderungen und die sich ständig ändernden Richtlinien anzupassen.
TocoBoost - Nominated for Danish Industry's Product Award 2015
Alfa Laval TocoBoost has been nominated for Danish Industry's Product Award 2015. A new technology that can extract valuable nutrients such as Vitamin E in the production of edible oil - nutrients that otherwise would be lost.
Informationen anfragen von
Angebotsanfrage für Verarbeitung von Fett und Öl